Get the answers to the most commonly asked questions regarding our guided Louisiana fly fishing trips.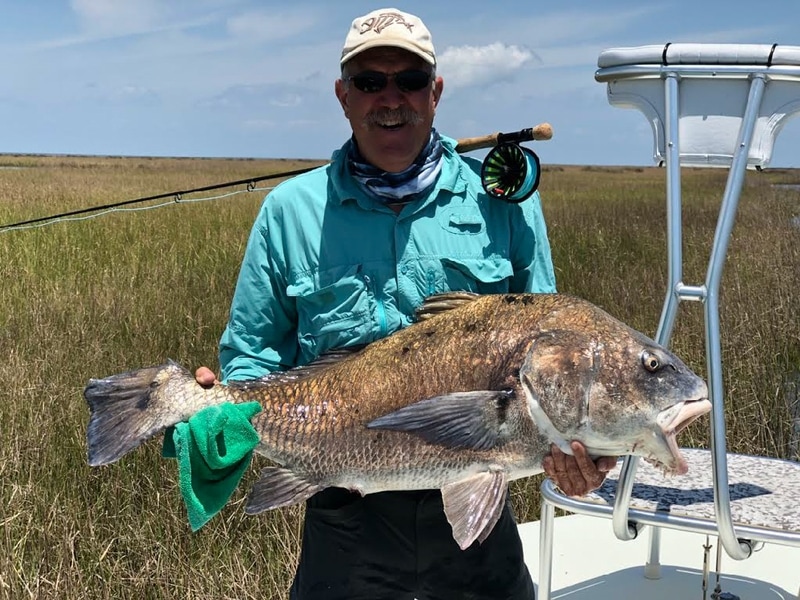 Where are we going fishing?
It depends on the wind and tides but usually 35 minutes southeast of New Orleans in the Biloxi Marsh out of Hopedale, Delacroix or Shell Beach– a beautiful, bountiful and big area.  Many days go by where we see no other people out there.  We also fish out of Buras, Lafitte, and Venice depending on where you'd like to stay.
What fish do you target?
Redfish (2-40lbs) are the primary target, but we also encounter black drum (5-60lbs), sheepshead (2-10lbs), alligator gar( 2-6 feet), jack crevalle (15-30lbs), etc.
What is the best time of year to come?
Louisiana is a year-round fishery. Each season and every day is different. With good conditions, amazing fishing is possible every month of the year. We fish year round.
Do you have lodging options?
Absolutely. We partner with a few of the best lodges in the region.  Package deals are available.  We can accommodate 12 fly anglers and 20+ conventional anglers. There are many places to stay in New Orleans for different budgets, as well. Please ask us for recommendations.
What is provided?
All fly and light tackle (spin) gear, fuel, water, ice, and the launch fee. You are welcome to bring your own gear or use our high-end gear. 7-11 weight rods (depending on fish targeted and conditions), reels with strong drags, plenty of backing and floating line is what we use. Medium or Med Heavy spinning rods or bait casters with 30lb braid and 30lb leader are appropriate.
What about transportation?
Transportation can be arranged depending on where you are staying. Renting a car and meeting your Capt. at the launch is the preferred method, but pickups in New Orleans are possible. Capt. Peter is one of the few guides doing pickups. Please arrange transportation with your guide.
What if I am a beginner at fly fishing?
As an FFI Casting Instructor, Capt. Peter is very patient and understanding with the different skill levels that people bring aboard the boat.  He is also more than happy to spin cast with you if you don't fly fish and always keeps spin and bait casting tackle on board.
Do you fish bait?
No. We cast artificial flies and lures at fish we can see, a tactic called sight-fishing.  It is very exciting and challenging that way, much more akin to hunting.  If you've never had the sight-fishing experience, you've been missing out.  There is no more rewarding way to fish.
What if I want to sight-fish with a spinning rod or bait caster?
No problem. We don't discriminate.
What do I need to bring?
Appropriate clothing for the weather- bring clothes in which you will be comfortable in on the water- depending on the time of year it can be hot or chilly. Covering up can be essential to keeping the biting flies manageable during certain times of the year. A good pair of polarized sunglasses are a must! Amber or copper color polarized lenses make a big difference. A hat to keep the sun off your face is also mandatory. Rain gear just in case.  Non-marking soled shoes (boat shoes) are very appreciated. 
What about food and drinks?
Water is provided. Bring lunch, snacks and your beverage of choice. There is a place close to the launch called Last Stop that does great po-boys. We often call in orders there on the way down.
What about a fishing license?
Yes, you need to purchase a fishing license. You may do it online: https://www.wlf.louisiana.gov/page/recreational-fishing-licenses-and-permits
Purchase the 3-Day Charter Passenger License and bring a printout or save it on your phone. You may also call 1-888-362-5393 if you are having trouble with the website. Make sure you bring the authorization code with you.
Can we keep the fish?
We generally practice catch and release, but if you'd like to keep one for dinner, or take it home with you, you are welcome to do so. There are fantastic chefs in New Orleans that will cook them up for you at their restaurant, just ask Capt. Peter to make arrangements.
What about payment?
Please visit our Contact page to make a reservation, or call Capt. Pete at (504) 459-9960. The balance may be paid in cash or by credit card. A typical tip/gratuity for the day is $100, but that is up to you. We work very hard to put you on fish and we want you to catch fish as much as or more than you do. Gratuity is greatly appreciated and respected.
How many people can you take?
We can take 2 people (guide plus 2) on a skiff. Booking multiple skiffs/guides is possible, as is booking a bay boat to spin fish on that can accommodate 4-6.
A friend/spouse is welcome to come along and enjoy the spectacular scenery.
Enter to win a free fishing trip
We're giving away a FREE inshore fly fishing adventure for 1 lucky angler. Enter below and win the sight-fishing trip of a lifetime!