Fine-tune your fly casting with International Federation of Fly Fishing Certified Casting Instructor Capt. Peter Scafaru.
Complete the form to learn more about fly casting lessons with Marsh On The Fly. Groups are welcome!
What is the one thing you can do to catch more fish and have more fun? Become a better fly caster!
No matter what your level of experience, having a casting lesson will help you to better enjoy your time out on the water. Whether you are going out for tarpon or brim, learning how to cast effortlessly and accurately will land you more fish.  Nothing is more rewarding than seeing your skills develop as a caster;  just like one wouldn't go play golf without working on their stroke, being truly successful at fly fishing means being able to cast well in a variety of conditions and situations.
Fly casting can be an art and the road to mastery is much shorter with patient and knowledgeable instruction.  From beginning lay down/pick up casts and roll casts to double hauling and curve casts, there is always room for improvement.  Call today to book your lesson in the New Orleans area.
Capt. Pete's Background
I love fly casting.  I first saw it when I was 12 and I thought it looked crazy.  We were on summer vacation in Crested Butte – my older brother waved that fly rod all over the place and hooked the willows almost as often as he had his line in the water. I thought I was wise with my blue tackle box full of worm hooks, sinkers, and some spinners.  I remember we both caught some beautiful small rainbows.
Later, I started teaching myself how to cast in the swimming pool on a Berkley Stinger that I had bought for $18.99 at Yellow Front, one of the big box stores in AZ before Walmart came. I came across the Orvis Fly Fishing Guide by Tom Rosenbauer, one of the first comprehensive how-to fly fishing books, and tried to cast like the pictures.  The real education came when I started hitting the creeks off the Mogollon Rim in eastern AZ as soon as I could drive.
There was little room for the classic 10-2 overhead cast, so I developed a pretty good sidearm cast and got good at stalking those super spooky brown trout. I fished long leaders and caught fish wherever my little red Toyota pickup took me out west and I never really thought about casting until about 20 years later when I decided I would like to teach people how to fly cast and fly fish.
I found the certification through the Federation of Fly Fishing and took the exam prep sheet to the park with my fly rod and a measuring tape. I could only perform 3 out of 15 casting tasks!  And I had thought I was pretty good…
No matter how good we think we are, there's always room to improve!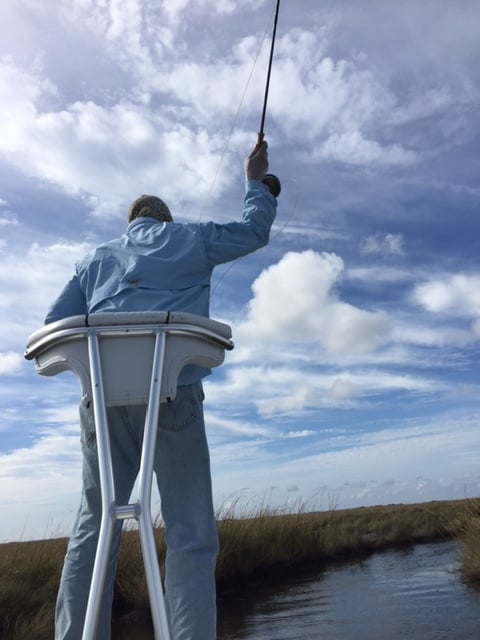 Enter to win a free fishing trip
We're giving away a FREE inshore fly fishing adventure for 1 lucky angler. Enter below and win the sight-fishing trip of a lifetime!